Send us the art work you would like on the massage gun, remember that it will be laser engraved on the gun, it looks best on the rose gold or black massage guns.
Also, leave a note in the order what colors you would like and we will begin working on your order promptly. 
8 units (25% off current sale price)
16 units (30% off current sale price) - Custom Branding
24 units (35% off current sale price) - Custom Branding - Express Shipping
FULL BODY RELIEF & RELAXATION – Versatile Gun Features 20 Adjustable Speed/Frequency & 8 Interchangeable Rubber Massage Head Tips for Targeting Pressure Points on Neck, Back, Calf, Leg, Shoulder, Hip & More
MULTIFUNCTIONAL MUSCLE THERAPY – Powerful Portable Percussive Massager Delivers Rapid, Concentrated Pulses to the Body's Soft Tissues for Increased Blood Flow, Fast Pain Relief, Gentle Stretching & Shortened Recovery Time
SUPER QUIET MOTOR TECHNOLOGY – Unlike Earlier Percussion Tools, Ours Delivers the Same Powerful Comfort & Relief Without Distracting Noise; Perfect for Men & Women Athletes, Bodybuilders, Runners, Swimmers & Weightlifters
OPTIMALLY SIZED FOR HOME OR GYM – Small, Compact Device Combines Every Machine Into a Single Handheld System! Replace Your Roller Ball, Kneading Shiatsu Chair, Massage Mat & Compression Massager at Once!
AWESOME CORDLESS CONVENIENCE – Stick Includes FREE Case & Quickly Recharges for Whole Body Relief Anytime, Anywhere; Great for Muscle Stiffness, Inflammation, Soreness, Range of Motion, Circulation & More
LCD Touch Screen-Easy to Operate

20Gears of Speed Shifting-20 speed shifting design meets a variety of massage needs.

Setting Massage Time-Deep Relaxation&Avoid damage to muscles.

Battery Power Display-Remind you to recharge.
Professional Nike Runner - Kayla White. In 2019, she ran the fastest indoor 200m in the WORLD!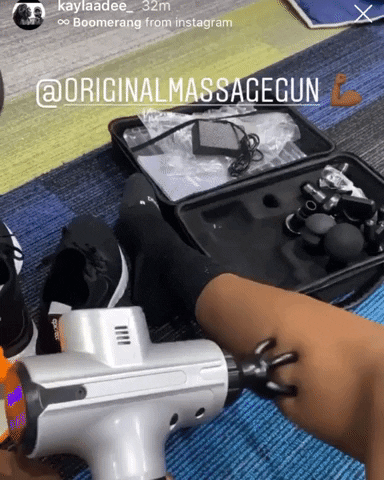 This personal handheld massager gun helps you overcome muscle soreness, relieve body fatigue, combat stiffness and spasms. Just enjoy the deep tissue massage and relaxing at home, office or during a long trip! 
Professional Runner - Laura Roesler - 5x NCAA national champion and Bowerman award winner
【RANKED MASSAGE GUN TRUSTED BY CHAMPION ATHLETES】:

 

The massage gun is used by Professional, Collegiate, Highschool, and even youth teams. POWERFUL AND QUIET. Look closely you will see this massage gun on the sideline, in the gym, or the Physical Therapist Office. Because it is portable, QUIET, easy to use and proven, ie is the #1 Brand. 
Professional Runner - Maya Stephens - in 2019 she made the track and field World Championships, representing Team Canada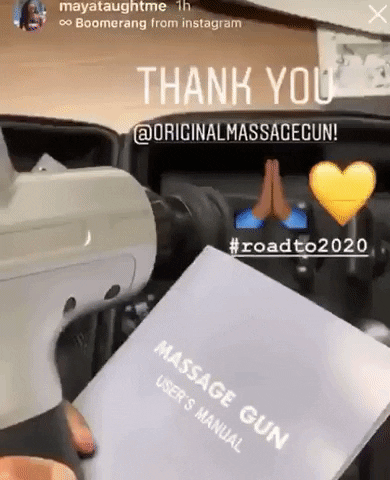 【Newest Massage Gun】Upgraded handheld massage gun relieves muscle soreness more easy and scientific, new technology helps you solve the constant tension of neck and back, a good lifesaver for those who work out to pre-workout warmup and post-workout recovery.
【Balance Design】Percussion massage gun is designed to 2 handles---better to grip, prevent slips. Two handles provide balance power strength on your skin. You can use one or two hand to operate it, and 2400mAh batteries can working more longer time.
【Effect And Benefit】Percussion massager offers more pressure and speed than traditional massage, scientifically-calibrated to deliver deep muscle treatment, 40 times per second, to relieve muscle tension. You can use massage machine in home, gym,office, saving time, saving money.
【Versatility And Portability】Muscle massage gun comes with a variety of attachments and a couple accessories. You can choose between five different detachable massage heads, including a large ball, standard ball, cylinder, three points and a cone. It also comes with a zippered pouch for the attachments and a zippered carrying case with handle for everything.
8 Massage Heads,Use On Any Body Part
Suitable for thick muscle tissue
Suitable for cervical vertebra massage
Suitable for massaging body joints
Suitable for full body muscle massage relaxation
Super Silent
With super silent techonology, you can barely hear any noise while using it (20- 39 Db).

This personal handheld massager gun is ready for you.
♥ Overall relaxation 
♥ Regain body after training 
♥ Help the practitioner to comb the fascia, promote blood lymphatic reflux, and restore the normal shape of the muscles 
♥ 4 - 6 hours working time: 15000mHA rechargeable lithium-ion battery supports about 4 - 6 hours of use per charge 
♥ More smooth and quiet: Intelitopia massagers with high-precision mould, it makes the machine head and the body tightly connected, the noise in the process of running can be effectively reduced by smooth sliding, Intelitopia 5.2 is more quieter compared with 60 decibels from other suppliers
DAILY HEALTH CARE
Back pain in the daily life, muscle stiffness,
Choose to start massage from Low grade or Medium grade mode
Package Included:
1x massage gun
8x massage head
1x power charger(110-250V)
1x Original storage box